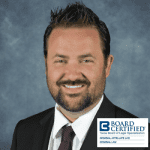 Board Certified Attorney Jacob Blizzard works tirelessly to achieve the greatest possible results for each of our clients and their families.
Jacob is one of only 87 attorneys out of 100,000 attorneys in Texas who is dual Texas Board of Legal Specialization Certified in Criminal Law and Criminal Appeal law.
Included here is a selection of just a few of his successful results, settlements, and verdicts.
Every case and client is unique and depends upon the individual facts and circumstances of each case. Clients may or may not obtain the same or similar results in each case.