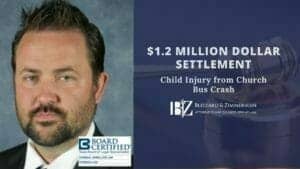 RESULTS: In this personal injury case, our client, a 7th-grade girl, was severely injured in a church bus accident.
The child was hospitalized for over a year, contracted MRSA.
It took longer than a year for her to be physically rehabilitated to be able to fully walk again.
Received settlement to the client in the amount of $1.2 Million (net to client $830,335).
Catastrophic injuries impair major life functions.
Long-term medical care may be required.
The ability to continue to lead a normal life is compromised or eliminated altogether.
The proper legal representation can ensure enough money is recovered to pay for current and future medical care is vital in personal injury cases.
Related links:
Personal Injury Law
Texas Department of Transporation Motor Vehicle Crash Statistics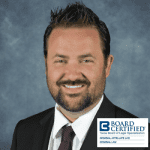 Jacob Blizzard is board certified in both criminal law and criminal appellate law.
He regularly practices in the areas of state and federal criminal defense, criminal appeals, post conviction writs of habeas corpus.
In Texas, there are more than 100,000 attorneys licensed to practice, but only 7,450 are board certified.
In the entire State of Texas, as of the 2019 certification year, there were only 87 attorneys board certified in both criminal law and criminal appellate law, making Mr. Blizzard one of 0.087% of attorneys in Texas to hold both of those certifications.
Attorney Jacob Blizzard works tirelessly to achieve the greatest possible results for each of our clients and their families. This is one of his successful results, settlements, and verdicts. Every case and client is unique and depends upon the individual facts and circumstances of each case. Clients may or may not obtain the same or similar results in each case.