RESULTS: Case Dismissed on Eve of Trial
1st Degree Injury to a Child Shaking Baby Syndrome
Criminal defense attorney Jacob Blizzard and our associates achieved dismissal of an injury to a child case.
Our client was accused of shaking a two-year-old foster child and causing severe brain injuries (often called shaken baby syndrome or abusive head trauma).
A thorough investigation into the case, retaining experts, and preparing to go to trial showed that the alleged shaking was actually an accidental fall where the child fell from a bench.
Persistence and pressure against the State led the prosecutor to dismiss the case (which had been pending for 5 years) just days before the trial because the State's expert could no longer state for certain that the child's injuries were caused by a fall.
Jacob and our attorneys were prepared to take the case to trial and win with more than 15 witnesses lined up, including a pediatric neurologist and a biomedical engineer to outline how the accident happened and the injuries were consistent with a fall as well as lots of character witnesses, CPS workers, and others who could vouch for client's tenderness as a foster mother.
– September 2021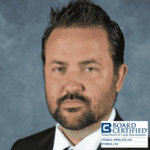 Jacob Blizzard is board certified in both criminal law and criminal appellate law.
He regularly practices in the areas of state and federal criminal defense, criminal appeals, post conviction writs of habeas corpus.
In Texas, there are more than 100,000 attorneys licensed to practice, but only 7,450 are board certified. In the entire State of Texas, as of the 2019 certification year, there were only 87 attorneys board certified in both criminal law and criminal appellate law, making criminal defense attorney Jacob Blizzard one of 0.087% of attorneys in Texas to hold both of those certifications.
Blizzard and Zimmerman Attorneys work tirelessly to achieve the greatest possible results for each of our clients and their families. This is a selection of one of our many successful results, settlements, and verdicts. Every case and client is unique and depends upon the individual facts and circumstances of each case. Clients may or may not obtain the same or similar results in each case.