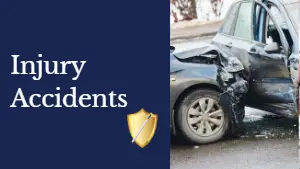 If you have been the victim of an accident, you may be feeling overwhelmed and unsure of where to turn to for an accident lawyer. Our Abilene accident attorneys are here to help.
Having experience handling a variety of personal injury cases, we will work diligently to get you the compensation you deserve. Not all accident cases are the same, but we have the knowledge and real world experience to handle any type of case.
We have helped clients in a variety of accident cases, including vehicle accidents, slip and fall incidents, and more. If you have been the victim of an accident, call us today for a free consultation. We will review your case and help you understand your legal options.
The personal injury attorneys At Blizzard & Zimmerman Attorneys understand the impact an unexpected personal injury can have on your life.
As auto accident lawyers in Abilene We're ready to assist with serious car crashes, truck wrecks, and work injuries so contact us today for a FREE one-on-one consultation with one of our injury attorneys, not a legal assistant or office staff member.
Our goal is to make sure that our clients receive the maximum amount of compensation for their injuries.
If you have been involved in an accident seek medical help immediately.
Stay calm and follow these general guidelines:
Ensure safety: Move your vehicle to a safe location if possible, away from traffic, to prevent further accidents or injuries. Turn on your hazard lights.
Check for injuries: Assess yourself and others involved in the accident for injuries. If anyone requires immediate medical attention, be sure to call for an ambulance right away.
Notify the authorities: Contact the police or local law enforcement to report the accident. Provide them with accurate information about the location, number of vehicles involved, and any injuries.
Exchange information with all parties involved in the wreck if there are any: Share your contact, insurance, and vehicle details with the other driver(s) involved in the accident. Obtain their information as well, including names, phone numbers, addresses, and insurance details. If you have any witnesses to the crash be sure to get their contact information too.
Document the scene: Whip out your cell phone and take photos or videos of the accident scene, including the damage to all vehicles involved. This evidence can be useful for insurance claims and legal purposes.
Avoid admitting fault: DO NOT ADMIT FAULT! You must cooperate with the authorities and provide accurate information to them, avoid admitting fault or making any definitive statements regarding responsibility for the accident as this could lead to leaga issues (See 10 below).
Contact your insurance company: Inform your insurance provider about the accident as soon as possible. They will guide you on the necessary follow u steps to file a claim and may ask for specific information.
Seek medical attention: Even if you don't feel injured immediately after the accident, it's advisable to get a medical check-up. In many instances it may be days or weeks later that you start feeling pain from injuries as some injuries may have delayed symptoms. Get a medical professional to assess your condition thoroughly.
Preserve evidence: Ihe days and weeks after the wreck be sure to keep records of any medical treatment, expenses, and repairs related to the accident. This information will be helpful for insurance claims and legal proceedings, if necessary.
Consult an attorney for legal advice if the accident resulted in significant damage, injuries, or disputes regarding fault. Consult an attorney experienced in personal injury or traffic law.
Don't let insurance companies take advantage of you.
There are strict deadlines established by Texas law in which to file your personal injury claim.
Call us today so we can make sure these timelines are not passed over and that your legal rights are protected.
When it comes to suing an insurance provider, it's important to find an attorney who is best suited for your specific circumstances. So, two questions you should ask yourself right now are, "Why do I want to sue?" and, "Whose insurance company do I want to sue?" There are a few misconceptions about suing insurance providers that you should be aware of before you start the process.
First of all, you should know that federal law prohibits insurance companies from engaging in certain types of conduct. For example, insurance companies are not allowed to refuse to pay claims without a reasonable basis for doing so. If you believe that your insurance company has acted in bad faith, you may have a valid legal claim against them.
Another thing to keep in mind is that Texas state laws are applied when it comes to suing insurance companies.
If you are involved in a traffic accident and are injured, you might be wondering if it is possible to go after the other driver's liability insurance company for compensation. Unfortunately, in the state of Texas, this is not typically possible. Texas is not a "direct action" state when it comes to liability insurance, which means that you cannot sue the insurance company directly. Instead, you have to sue the other driver first and then hope that they have insurance that will cover your damages. This can be a difficult and time-consuming process, which is why it is important to work with an experienced accident and injury attorney who can help you navigate the legal system and get the compensation you deserve.
Finally, it's important to remember that even if you have a valid claim against an insurance company, winning your case is never guaranteed. Insurance companies have deep pockets and they will fight tooth and nail to avoid paying out on a claim.
Accident Injuries Have Numerous Effects
Accident injuries result in lost wages, medical bills, and pain and suffering that affect both you and your family.
It can be especially difficult to deal with all of these factors on your own. With you finding an experienced crash lawyer with Blizzard & Zimmerman, you won't have to.
Often, the insurance companies will try to settle for less than you should get.
We take time to listen, assess, and analyze each case to ensure you receive a resolution to your case that effectively compensates you for the wrongs you've suffered.
Jacob Blizzard is board certified in both criminal law and criminal appellate law. His legal experience also includes actually working in an insurance defense law firm representing large national insurance companies. He understands how they defend themselves in legal matters and uses that experience to your advantage.
So he knows how to take them on along with Matt Zimmerman who is a nationally recognized trial lawyer.
In one recent case, we obtained a $1.2 Million Dollar Settlement involving a client injured in a church bus crash.
Frequently Asked Questions
The insurance company called me and wanted a recorded statement, what should I do?
Only talk to the insurance company after you've talked with a lawyer.
The insurance company may use your recorded statement against your personal injury claim.
They may seem to express genuine care and interest for what happened but beware as any comment from you can be used against you in court.
The insurance companies know what they are doing and they will use all tactics to deny you the compensation you deserve.
You must speak to an injury lawyer before you provide a recorded statement.
Will my case go to trial?
Statistically, less than 25% of personal injury cases go before a jury.
Many that do go to a jury actually end up settling before the trial is over.
The experienced injury lawyers of Blizzard and Zimmerman are also experienced trial attorneys and they can help shed light on whether your case will go to trial or not so call today for a free consultation.
Accident Injury Lawyer Services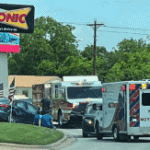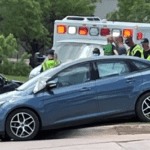 According to the Texas Department of Transportation, in a recent report on accidents on state roadways:
1 person is killed every 2 hours 15 minutes
1 person was injured every 2 minutes 34 seconds
1 reportable crash occurred every 1 minute 7 seconds
Plaintiff personal injury litigation includes not only vehicle-related accidents:
Wrongful Death Car Wreck
Car Accidents
Fatal Car Accident
Fatal Commercial Accident
Oilfield Accident
Wrongful death
Work Injuries
Unsafe premises liability
Product liability claims
Motorcycle accidents
Hit & run accidents
Burn Injury
Bodily Injury
Car Injury
Truck Accidents
Premises Liability
Catastrophic Injuries
Whiplash
Scooter Accident
Bicycle Accident
Pedestrian Accident
Brain Injury
Construction Accident
Fire & Explosion
Broken bones
Amputation
Paralysis
Wrongful death
Benefits of Hiring an Experienced Accident Injury Lawyer
If you have been injured, hire a personal injury lawyer to represent you. There are many benefits to having an attorney on your side. Here are a few benefits that you should be aware of.
A personal injury lawyer can be professional and objective.
They can make decisions that aren't based on emotion and pain.
A personal injury attorney is experienced which means they can help you with a variety of things.
One thing that an attorney will be able to help you with is the negotiation of compensation. They will be able to negotiate fair compensation for you.
An accident attorney can help you get proper medical attention for your accident injuries.
A personal injury lawyer can help you make better decisions throughout your entire case. This can mean a faster timetable for receiving compensation or even higher compensation. It can be very beneficial for you to hire a personal injury lawyer.
The professionals here at Blizzard & Zimmerman Attorneys are ready to help you when you need a personal injury attorney. Call us today to schedule a free consultation. We are proud to serve those in the greater Abilene area.
We're also experienced in civil litigation, representing clients in civil lawsuits. We can manage all phases of the litigation:
Investigation
Discovery
Pleadings
Through the pre-trial, trial, settlement, and appeal court processes.
If you are in the Abilene, TX region and have questions for a personal injury attorney, please contact us.
Together, we'll work towards earning you the compensation and justice that you deserve. Contact us today for a free consultation.