Criminal Defense, Post Conviction & Family Lawyers
At Blizzard and Zimmerman Attorneys, we understand that a legal challenge can be intimidating and stressful. We want to make sure you get the best representation for your particular case so that you have peace of mind knowing that your rights are protected. Our team has extensive experience in Texas and Federal criminal defense, Texas and Federal criminal appeals, divorce law, family law, and personal injury cases. We strive to provide our clients with the utmost care and attention to ensure that their legal matters are resolved in a timely and efficient manner.
At Blizzard and Zimmerman Attorneys we don't just have one attorney – our Abilene law firm has an entire team of lawyers who are committed to defending you and protecting your rights. With a diverse range of perspectives on hand, along with each member's unique experiences in the criminal justice system, our attorneys provide top-tier representation for every case they take on. Jacob Blizzard is among a few attorneys in the entire state who is dual board certified in Criminal Law and Criminal appeals by the Texas Board of Legal Specialization. Board Certified attorneys are skilled legal professionals who have earned this mark of excellence by dedicating countless hours to law.
RESULTS: Mother Gets Her Children Back
We represented a young mother who had been involved in an abusive and controlling relationship.
Our combination of family law and criminal representation came together for this joint representation when Client confronted her husband about his abuse and attempted to stop him from leaving while intoxicated with the children.
RESULTS: Ineffective Counsel Leads to Unjust Sentence
Meet our client, an 18-year-old African refugee who found himself facing a daunting sentence for aggravated assault with a deadly weapon. But something didn't sit right with us. After digging deeper, we discovered his case was far more complex than it seemed.
Seek justice. Defend the oppressed.
– Isaiah 1:17 –
When faced with a legal challenge, you may be feeling overwhelmed and vulnerable. In these situations, the lawyer you choose is critical.
Here in our law office you really work with an entire team of nationally recognized lawyers.
Whether you're seeking a criminal defense lawyer, a federal criminal defense lawyer, a divorce lawyer, an accident injury lawyer, or you're pursuing a state or federal criminal appeal or post conviction 11.07 writ, you want an experienced lawyer who will vigorously defend your rights.
We do this work because we care about people.

We believe in fighting for our clients.

We believe in compassion.

We believe in second chances.

And we believe in justice.
The lawyers and staff at Blizzard and Zimmerman attorneys work together with diversified skills that complement each other. We work as a team.
Our attorneys have a deep understanding of the laws and criminal justice system. However, there is no one attorney who knows it all. That's why we rely on each other for different perspectives or previous experiences that can help us better represent your case in court!
Criminal Defense Lawyer Jacob Blizzard is certified by the Texas Board of Legal Specialization in BOTH Criminal Law and Criminal Appellate Law.
Becoming a board certified lawyer is one of the highest achievements an attorney can reach in their career.
Texas Board of Legal Specialization Certification is a special stamp of approval issued by the Texas state bar to recognize an advanced level of knowledge, expertise, professionalism, and legal profession ethics.
Of the 100,000 lawyers in Texas, Jacob is one of only 87 lawyers in the state who are board certified in BOTH criminal law and criminal appellate law.
Hiring a board certified attorney provides a person with credibility and assurance that the lawyer has met the most stringent standards in the practice of law. Here in Texas, certification by the Texas Board of Legal Specialization allows lawyers to distinguish themselves for a heightened level of dedication and excellence in their practice. Board-certified lawyers have earned the respect and recognition of their peers, and we believe this makes them an ideal choice for legal representation.
What if you have a good case? The last thing that any client needs is an attorney who tells them to plead guilty because he or she will not take the time and effort into trying their hardest on your behalf. A lawyer's unwillingness to try cases should not be the reason why a client pleads guilty.
Before hiring a criminal defense attorney, ask them questions to ensure they have enough experience in taking cases like yours to trial.
There are many reasons why some criminal defense attorneys may not want to go to trial.
Board-certified lawyers have a higher level of proficiency in their practice, which makes them more likely to take cases to trial.
When considering a criminal defense attorney, it is important to ask them if they have experience in taking a case like yours to trial.
It would also be wise to inquire about their successes at trials for cases similar to yours.
Specifically, you can ask "Have you ever had a win at trial, in a case with these charges?" and "When was the last time you actually tried a case?". Lastly, another telling question would be "How many trials have you actually done and not done a plea agreement?".
Blizzard and Zimmerman Core Beliefs
We question everything.

We believe every client & case is different.

We believe the outcome should reflect those differences rather than a one-size-fits-all approach.
Led by Jacob Blizzard, one of a few lawyers who has won federal criminal cases out of the Abilene, and the other federal court divisions notoriously "law and order" oriented divisions of the Northern District of Texas.
With over 33 combined years of advocacy, our experienced federal criminal defense, state criminal defense, Texas criminal appeal, federal criminal appeal, family law, and divorce lawyers have gained a reputation for securing positive results for our clients.
Blizzard and Zimmerman Attorneys provide high-quality criminal defense representation and family law and civil law services to individuals in Abilene and West Texas and federal criminal services nationwide. We handle a wide variety of criminal law cases from Texas state and US Federal first-time offenders who have committed minor infractions all the way up to capital murder trials where guilt is proven beyond any doubt by mitigating circumstances that may arise during a criminal investigation.
We will evaluate your prospects for success based on past experience plus our legal expertise. Our experienced family law attorneys assist with divorce and related matters along with wills and probate. Our civil law attorneys focus on Deceptive Trade practices, Breach of Contract, and Suing Contractors.
Our criminal defense lawyers, family law lawyers, and staff here at Blizzard & Zimmerman lawyers have the tenacity and dedication to give your criminal defense family law case the time and attention it requires. Contact our team today to schedule a one-on-one hour-long lawyer consultation.
— JACOB BLIZZARD & MATT ZIMMERMAN —
— PARTNERS —
Sometimes the most difficult decision you will ever make is whether or not to end your marriage. You may be feeling guilty, fearful of what could happen and how a divorce will affect your kids. You're uncertain about who should get custody in a divorce if either spouse wants them despite any abuse they've experienced at home. This life-altering choice sometimes leaves you with more questions than answers – but that's where our family law attorneys come into play! They have experience dealing with these issues so don't hesitate. Call today for a consultation.
We'll be your number one advocate. When you need a lawyer who will fight for what is right, our team of skilled and passionate legal professionals provides support at every step along the way. That means protecting custody rights during a high-conflict divorce or by providing guidance on how best to reach an amicable settlement.
Caring & Communication Matter
Consistently the largest complaint people have with their lawyers is a lack of communication and updates in their cases. Whether it be criminal defense family law or personal injury.
Clients often get a convincing sales pitch upfront that their case will be handled well and with a good result.
Once the criminal defense lawyer is retained; however, the true colors of the lawyer emerge as someone who won't return phone calls, respond to emails, or otherwise appear to take an interest in the case or situation.
At Blizzard & Zimmerman Attorneys, we believe client communication is of the utmost importance.
We strive to keep our clients informed. We partner with them in their cases to reach the best outcome possible for their situation.
To us, it's more than a case.
It is often some of the most serious life-altering situations a person will face in his or her life.
Hiring a criminal defense attorney who actually takes cases to trial can be difficult. That's why it is important for you, as a client of such a lawyer (or potential client), to look at their track record and see if they have any successes under their belt before giving them your business – or any other legal professional's. Expecting someone without experience in this area will only end up costing more money down the line when trials are lost because no one knows how best to handle certain situations like guilty pleas, plea bargain deals, jury selection, and more.
When you hire our Abilene law firm you hire a team of professional criminal defense lawyers, criminal appeal lawyers, divorce lawyers, family attorneys, legal assistants, and staff who take the time to explain your case, communicate with you regularly, and work tirelessly to achieve the best possible results for you, our client.
OUR ABILENE LAW FIRM LAWYERS

Arrested in West Texas
Recently attorney Jacob Blizzard was mentioned on the Troublemakers podcast, episode 6- Arrested in Texas.
Host Dylan Krasinski is joined by LA comedian Randy Valerio. Valerio talks about Jacob helping him get Class 2 Felony Possession charges against him dropped after a traffic stop on Interstate 20 near Abilene, TX and chocolate bars found in the trunk of his car. Here's more.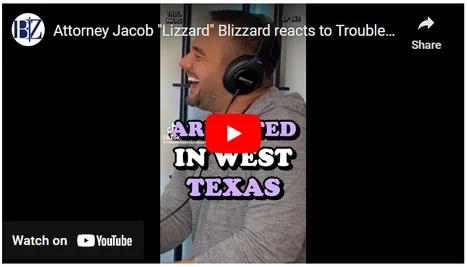 Law Firm News
Right of Privacy: Does Police Intrusion Without Search Warrant in Someone Else's…
I wanted to talk to you about the crucial aspects to consider when hiring an…
Meet our client, an 18-year-old African refugee who found himself facing a daunting sentence for…
[/column_3] [/column_2] [/column_1]