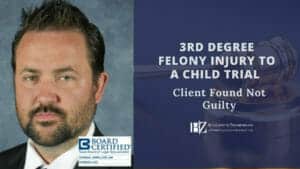 RESULTS: Attorney Jacob Blizzard represented Client in a four-day jury trial where the Client was charged with 3rd degree injury to a child causing bodily injury.
The client was accused of slapping her step-child causing his eardrum to be ruptured and a bruise on his face.
The client was alone with the child in the period of time leading up to the discovery of the injury and was accused directly by the teenage child of causing the injury.
Thorough investigation and preparation prevailed.
Jacob in advance of trial:
Gathered records,
Interviewed witnesses
And obtained the evidence.
With the evidence he showed the jury through cross-examination that the victim and his mother had an ax to grind against the Client and that they had given many inconsistent statements about the allegation.
RESULT: Jury returned a Not Guilty verdict.
-July 2021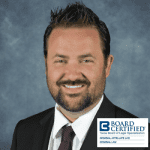 Jacob Blizzard is board certified in both criminal law and criminal appellate law.
He regularly practices in the areas of state and federal criminal defense, criminal appeals, post conviction writs of habeas corpus.
In Texas, there are more than 100,000 attorneys licensed to practice, but only 7,450 are board certified.
In the entire State of Texas, as of the 2019 certification year, there were only 87 attorneys board certified in both criminal law and criminal appellate law, making Mr. Blizzard one of 0.087% of attorneys in Texas to hold both of those certifications.
Attorney Jacob Blizzard works tirelessly to achieve the greatest possible results for each of our clients and their families. This is one of his successful results, settlements, and verdicts. Every case and client is unique and depends upon the individual facts and circumstances of each case. Clients may or may not obtain the same or similar results in each case.