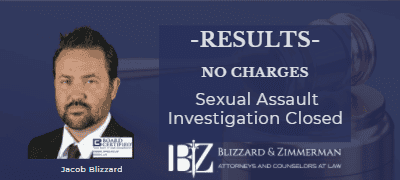 RESULTS: Sexual Assault Investigation Closed with No Charges.
Client hired Mr. Blizzard regarding a pending sexual assault investigation where he had been contacted by police and requested to be interviewed relating to sexual assault of an adult charges.
The day after hiring, Mr. Blizzard contacted the assigned detective, informing him that the Client would not submit to an interview.
Criminal defense attorney Jacob Blizzard then discussed the case at length with the detective, providing context to the investigation as well as text message evidence provided by Client, leading the detective to close out the case for insufficient evidence with no charges to be pursued.
Prompt action and established rapport with local law enforcement allowed Mr. Blizzard to handle the case quickly and efficiently, keeping the investigation from hanging over Client's head for any length of time.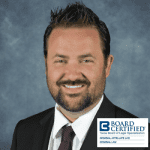 Jacob Blizzard is board certified in both criminal law and criminal appellate law.
He regularly practices in the areas of state and federal criminal defense, criminal appeals, post conviction writs of habeas corpus.
In Texas, there are more than 100,000 attorneys licensed to practice, but only 7,450 are board certified.
In the entire State of Texas, as of the 2019 certification year, there were only 87 attorneys board certified in both criminal law and criminal appellate law, making criminal defense attorney Jacob Blizzard one of 0.087% of attorneys in Texas to hold both of those certifications.
Attorney Jacob Blizzard works tirelessly to achieve the greatest possible results for each of our clients and their families. This is one of his successful results, settlements, and verdicts. Every case and client is unique and depends upon the individual facts and circumstances of each case. Clients may or may not obtain the same or similar results in each case.