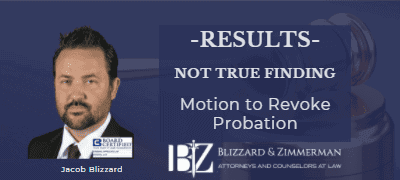 RESULTS: "Not true" finding in a motion to revoke felony probation where new sex offense alleged.
Client was accused of a sex offense as a violation of his felony probation.
Through a contested trial before the judge, the judge in the case found the allegation "not true."
Mr. Blizzard vigorously defended the Client in a lengthy proceeding before the judge, where the burden of proof for revocation is a lower preponderance of the evidence rather than beyond a reasonable doubt.
Still, Mr. Blizzard prevailed by presenting conclusive evidence of coaching by the child's mother and focusing the Court's attention on the vagueness of the allegations and timeline.
TRUST
When you come to Blizzard & Zimmerman Attorneys, we will take your needs seriously and work hard to earn your trust. If you need an attorney who will fight tirelessly on your behalf to seek the best possible result in your case, contact us today.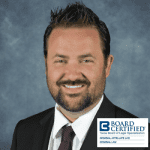 Jacob Blizzard is board certified in both criminal law and criminal appellate law.
He regularly practices in the areas of state and federal criminal defense, criminal appeals, post conviction writs of habeas corpus.
In Texas, there are more than 100,000 attorneys licensed to practice, but only 7,450 are board certified.
In the entire State of Texas, as of the 2019 certification year, there were only 87 attorneys board certified in both criminal law and criminal appellate law, making criminal defense attorney Jacob Blizzard one of 0.087% of attorneys in Texas to hold both of those certifications.
Attorney Jacob Blizzard works tirelessly to achieve the greatest possible results for each of our clients and their families. This is one of his successful results, settlements, and verdicts. Every case and client is unique and depends upon the individual facts and circumstances of each case. Clients may or may not obtain the same or similar results in each case.