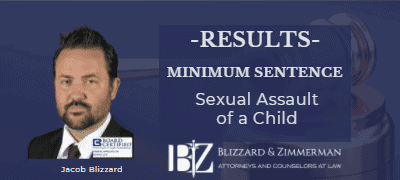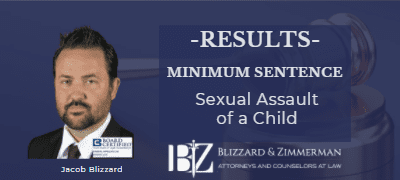 RESULTS: Client receives the minimum sentence after pleading guilty.
Case involved the Sexual Assault of a Child.
Client was charged with conduct that occurred when he was between 13 to 15 years old.
The conduct did not come to light until he was already an adult.
Client was certified to stand trial as an adult.
Client had confessed to the offense under police interrogation.
We worked with Client to build a plan for mitigation of his sentence, including creating an action plan and steps to show the court his diligence in pursuing better choices.
Client pled guilty and went to the judge for punishment, facing a range of punishments up to life in prison.
In a one-day sentencing trial, we showed the court that Client had lived life crime-free since, and through our retained forensic psychologist specializing in sex offenses showed that Client was not a danger to society and was a very low risk for re-offending.
The trial judge assessed his punishment as the minimum possible sentence.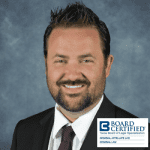 Jacob Blizzard is board certified in both criminal law and criminal appellate law.
He regularly practices in the areas of state and federal criminal defense, criminal appeals, post conviction writs of habeas corpus.
In Texas, there are more than 100,000 attorneys licensed to practice, but only 7,450 are board certified.
In the entire State of Texas, as of the 2019 certification year, there were only 87 attorneys board certified in both criminal law and criminal appellate law, making Mr. Blizzard one of 0.087% of attorneys in Texas to hold both of those certifications.
Attorney Jacob Blizzard works tirelessly to achieve the greatest possible results for each of our clients and their families. This is one of his successful results, settlements, and verdicts. Every case and client is unique and depends upon the individual facts and circumstances of each case. Clients may or may not obtain the same or similar results in each case.