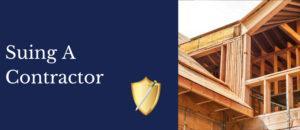 After hiring a contractor have they failed to complete (or even start) your project, made mistakes with their construction or misrepresented themselves?
Blizzard and Zimmerman Attorneys represent clients with construction claims against contractors in regards to:
Construction defects,
Failure to perform,
Liens,
Insurance claims,
Violating The Consumer Protection Act,
Unfair and deceptive trade practices.
HOW WE CAN HELP IN CONTRACTOR CLAIMS
If you're looking for an attorney for suing a contractor, we can help.
The first step is we have an attorney sit down with you and learn about the facts of your case.
The starting point is a review of the contract you signed.
What was this project about?
What work was actually done?
What should have been done?
Then and only then can our lawyers review and go over your options as each case is unique.
Suing a builder for negligence
Suing a contractor for poor workmanship
Suing a contractor for unfinished work
Suing contractor for property damage
Suing a pool contractor
The lawyers of Blizzard and Zimmerman will document your case as thoroughly as possible. Our goal is to prepare a strong, well-documented case that will increase the chance of obtaining a favorable settlement prior to trial.
We have assisted clients in the successful negotiation, mediation, and resolution of contractor disputes without having to go to court.
If we have to go to trial, our lawyers are experienced in trials and trial procedures.
Trial attorney Matt Zimmerman has been cited by The National Trial Lawyers Top 40 under 40. This organization is an invitation-only organization composed of premier trial lawyers from around the country who meet stringent qualifications as civil plaintiff and/or criminal defense trial lawyers.
When you have an experienced attorney on your side, contractors know that they must take your case and concerns seriously. Filing a lawsuit against a contractor is difficult and complex.
They may (or may not) realize they need to deal with you fairly. They need to do that or they are on notice that they will be called to defend their actions in court in front of a  judge and jury, who will be able to determine liability and damages.
Here in the state of Texas, there is a statute of limitations that allows homeowners only four years to file a breach of contract claim against a construction party.
MY CONTRACTOR IS SUING ME
If, on the other hand, you are on the receiving end of a lawsuit by a contractor you had hired, we can also help.
Contact us today so one of our attorneys can sit down with you and review your case and help you examine all of your legal options. It is important to have an experienced civil litigation attorney on your side.