RESULTS: Eliminating Burdens
Criminal Appeal Attorneys Jacob Blizzard and Sarah Durham handled a criminal appeal for a client and this client was returned to probation after a year of waiting for the Texas Court of Appeals' decision.
Although the Court of Appeals upheld the trial court's initial decision for probation, our representation did NOT stop there.
One of our criminal defense attorneys met with the client and advocated for their progress while the appeal was pending to show the State and Court that the client was engaged in positive activities.
Our team at Blizzard and Zimmerman Attorneys was able to remove the weight of working community service and instead allow our client to donate to the Food Bank so they could continue working their full-time job.
At Blizzard and Zimmerman Attorneys we care about what others consider "the little things," to give our clients the opportunity to succeed.
TRUST
When you come to Blizzard & Zimmerman Attorneys, we will take your needs seriously and work hard to earn your trust. If you need an attorney who will fight tirelessly on your behalf to seek the best possible result in your case, contact us today.[/column]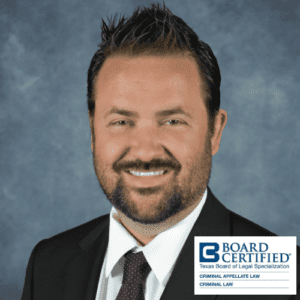 Attorney Jacob Blizzard is board certified in both criminal law and criminal appellate law.
He regularly practices in the areas of state and federal criminal defense, criminal appeals, post-conviction writs of habeas corpus.
In Texas, there are more than 100,000 attorneys licensed to practice, but only 7,450 are board certified.
In the entire State of Texas, as of the 2019 certification year, there were only 87 attorneys board certified in both criminal law and criminal appellate law, making criminal defense attorney Jacob Blizzard one of 0.087% of attorneys in Texas to hold both of those certifications.
He knows that having an attorney who understands you and your personal circumstances—not just your legal issue—makes a significant difference in your experience with the legal system and your case resolution.
Attorney Sarah Durham's practice focuses on appellate advocacy. She is passionate about the research and writing intrinsic to appellate and post-conviction writ work.
She frequently uses her skills, including attention to detail and presenting the complex as comprehensible, when advocating for her clients.
On a given week, she may write a brief to one of the fourteen intermediate courts of appeals throughout Texas or submit a petition for discretionary review to the Texas Court of Criminal Appeals.
Sarah also focuses on and can often be found working on post-conviction writs of habeas corpus, including 11.07; new evidence; and other extraordinary writs for post-conviction relief.
Criminal Defense Attornies of Blizzard and Zimmerman Attorneys work tirelessly to achieve the greatest possible results for each of our clients and their families. This is a selection of one of our successful results, settlements, or verdicts. Every case and client is unique and depends upon the individual facts and circumstances of each case. Clients may or may not obtain the same or similar results in each case.