Do you want to help your loved one get out of a Texas state prison? Our Freedom From Prison online course is your solution. Gain the skills you need to understand and utilize the Texas 11.07 Writ of Habeas Corpus process, which could potentially secure their freedom.
This comprehensive course covers everything from document preparation to filing timelines and strategies for creating a persuasive writ and brief. You'll have access to valuable resources to guide you through each step of the process. And the best part? You can go at your own pace, reviewing videos and techniques used by our attorneys to reinforce your learning.
Did your loved one face any of these challenges in their Texas criminal prosecution?
They pled guilty involuntarily.
Their prosecutors hid evidence.
The victim of the crime lied.
There were violations of Due Process.
They have been burned by lawyers.
They had bad lawyers and bad representation.
They were a minor tried as an adult.
There was prosecutorial misconduct.
Even if you have no prior legal experience, the 11.07 Writ of Habeas Corpus Freedom From Prison course is a game-changer. With easy-to-follow instructions and abundant resources, you'll gain the skills necessary to apply for post-conviction relief without hiring an attorney.
Purchase and get started with our 11.07 Writ of Habeas Corpus course today and set your loved one on the path to freedom. Don't delay any longer – help them take control of their future now.
To give you a closer look at the course we're providing you the first three lessons for FREE!

You don't have to hire an attorney or spend a ton of money to win freedom.
Unlock the secrets of the 11.07 writ of habeas corpus process in Texas with our affordable online course. Created by a team of experienced law professionals, this comprehensive guide will empower you to support your incarcerated loved ones on their journey to freedom. No need to spend a fortune on hiring a writ lawyer, as this course offers a cost-effective alternative. Designed specifically for family members, it will provide you with the knowledge and tools to confidently navigate the application and brief process. Don't let your loved ones just sit in prison and face the system alone – take our course, learn how you can help them with the writ process and get the best chance of freedom while avoiding common pitfalls along the way.
You have one year's access to the course materials. We've made it affordable.
If you Google "How much does a writ attorney cost in Texas" you'll see a figure of $20,000 to $50,000 dollars to hire a post-conviction attorney.

11.07 Writ of Habeas Corpus Course Content
Here's what you'll learn:
Scientific Writs
After You've Filed the Application
After the Hearing
The Process at the Texas Court of Criminal Appeals
Preparing a Subsequent Writ Application
Federal Review (If Your 11.07 Writ of Habeas Corpus Application was Denied)
The Overall Process of the 11.07 Writ of Habeas Corpus
Record Gathering
Identifying Issues
Thinking Outside the Box
Legal Research and Writing
Preparing the 11.07 Writ of Habeas Corpus Application
Preparing the Brief in Support of the 11.07 Writ of Habeas Corpus Application

Learn From a Certified Specialist
Course Director, Board Certified Attorney Jacob Blizzard is Texas Board of Legal Specialization Certified in both Criminal Appeals and Board Certified in Criminal Law.
He built this course out of his own practice in criminal writ work and teaches you how to be successful for your loved ones' writ applications.

Comprehensive & Detailed Content
Course content covers the 11.07 post-conviction writ process from start to finish with 80+ separate lessons with videos explaining, in an understandable way, walking through virtually every scenario.

Optional Add-On
The Brief Bank has useful applications, briefs, motions, and other documents which have been used by Blizzard & Zimmerman Appeals Attorneys in our ongoing writ practice.
You can use these as templates for your own writ.
What is the course all about?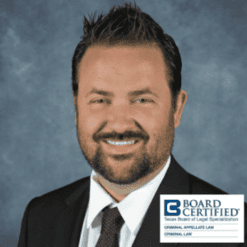 Jacob Blizzard
Board Certified Criminal Law
Criminal Appellate Law
Hello there, Attorney Jacob Blizzard here.
I'm recognized by the State Bar of Texas Board of Legal Specialization as a criminal law and criminal appeal specialist…one of only 87 attorneys (out of 100,000 attorneys in the entire state) to have both certifications. I'm also Capital Murder Appellate List Qualified here in the Texas 7th Judicial Region.
We have expended enormous time and resources to make this course something that is affordable and can actually give everyone the best chance of freeing their loved one from prison without a lawyer. In Texas hiring a writ lawyer can cost from $20,000 to $50,0000.
This course is reasonably priced, and comprehensive, and guides you through the 11.07 writ of habeas corpus process here in Texas from start to finish.
Just a few of our successful writ cases that have been handled by our writ attorneys are outlined at this link.
Beware of false helpers who claim to aid in freeing your loved one from prison, while their only interest is making money without actually providing any assistance.
Our objective with this course was to offer the finest training, at an affordable price, to support as many individuals as possible in maneuvering the writ process and the legal system, especially if hiring an attorney seems financially unfeasible.
If you have any inquiries, please reach out to me and my team directly at appeals@blizzardlawfirm.com today.
However, be prepared to invest effort and dedication to grasp the 11.07 writ of habeas corpus application process, which is effective for all types of state cases and felony charges in Texas.
Unlock Freedom: The Ultimate Online Guide to the Writ of Habeas Corpus Process
Discover a wallet-friendly solution that empowers you to secure your loved one's freedom from prison. This comprehensive online course takes you through the entire 11.07 writ of habeas corpus process in Texas, from start to finish.
Developed by a team of seasoned lawyers specializing in Texas post-conviction relief and appeals, this course is designed specifically for family members of incarcerated individuals. Whether you prefer to prepare the application yourself or assist your loved one in filing on their own behalf, this course equips you with the knowledge and tools to do it effectively.
With potential savings of up to a staggering $50,000 in legal fees, skip the costly writ lawyer and take control of your loved one's future. By enrolling in this course, you'll gain invaluable insights and tips to navigate the application and brief process without falling into common pitfalls. The course will also help those who have already hired an attorney by educating them on the 11.07 Writ of Habeas Corpus to help keep your attorney accountable.
Don't let your loved one's freedom wait any longer. Empower yourself with the knowledge and guidance to make a real difference. Enroll now and unlock the path to freedom.

What do people who have taken the course have to say about it?
Hear from Jacob on why he created this course: