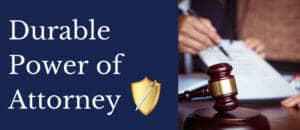 An important tool in your estate planning is your durable power of attorney.
This is a legal document generally used to make plans for the care of your finances, property, and investments in the event that you can no longer handle your financial affairs yourself.
This is different from a general power of attorney, which would terminate at the point when this durable power of attorney takes over when you become incapacitated.
The state of Texas determines that a person is considered to be "incapacitated" for the purposes of a durable power of attorney if a doctor's examination finds that they are not able to manage their own finances.
The doctor must provide a written statement certifying this finding of incapacity.
Power of Attorney: What To Know
A durable power of attorney allows you to appoint a person to manage your property and affairs in the event you are no longer able to do so for yourself.
At some point in your life, you will most likely need a power of attorney established to represent you.
But it's hard to know what a power of attorney is, how to appoint the right one, and what type of power of attorney you need, as there are several types.
Statutory Power of Attorney
General Power of Attorney
Medical Power of Attorney
Durable Power of Attorney
Blizzard & Zimmerman Attorneys offer personalized attention to assist you in crafting a power of attorney based on your wishes. We'd like to sit down and talk with you. Contact our office today to schedule a one-on-one appointment with one of our attorneys to discuss setting up not only power of attorney, but also your will, and health care directives.
Choosing a Power of Attorney
It's important that you choose someone you can trust to look out for your best interest. That means choosing someone who will respect your wishes and who will not abuse the powers they are granted as your agent.
You should also have an additional person named to serve as a backup in the case the appointed power of attorney is not able or willing to serve.
Power of Attorney in Texas Law:
The family law attorneys of Blizzard and Zimmerman attorneys stand ready to help set up your power of attorney, call today to schedule a one-on-one consultation with one of our attorneys to review your situation.