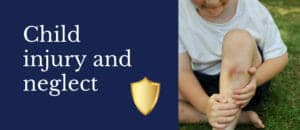 If you have been arrested for injury to a child, you should contact and consult with an attorney.
Injury and neglect to a child can be charged as a felony or misdemeanor depending upon the severity of the circumstances.
The prosecutor will charge the crime as a felony if a child has suffered great bodily injury or death. If there are allegations that you placed a child in circumstances that were likely to cause great bodily injury or death, the prosecutor is also likely to bring felony charges for child abuse.
The prosecutor must show that you willfully caused or permitted the child to be placed in that position that either caused or was likely to cause great bodily injury, suffering, or death. That would result in a felony charge as well.
ALLEGATIONS OF CHILD ABUSE ARE SERIOUS CHARGES
In looking at just a couple of recent cases, in one recent case, we defended a foster mother who was charged with First Degree Injury to a child.
Our client was accused of shaking a two-year-old foster child and causing severe brain injuries (often called shaken baby syndrome or abusive head trauma).
Our attorneys did a thorough investigation into the case, retained experts, and prepared to go to trial to show that the alleged shaking was actually an accidental fall where the child fell from a bench.
Persistence and pressure against the State led the prosecutor to dismiss the case just days before the trial because the State's expert could no longer state for certain that the injuries were caused by a fall.
Our criminal defense attorneys were prepared to take the case to trial and win with more than 15 witnesses lined up, including a pediatric neurologist and a biomedical engineer to outline how the accident happened and the injuries were consistent with a fall and many character witnesses, CPS workers, and others who could vouch for client's tenderness as a foster mother.
We got the charge dismissed.
In another case, a Third Degree Injury to a child felony, we obtained a Not Guilty jury verdict for a stepmother accused of slapping her step-child causing his eardrum to be ruptured and a bruise on his face.
In another case, we defended a teacher accused of slapping her second-grade student in a Taylor County jury trial. The jury found her not guilty.
TEXAS LAW ON INJURY TO A CHILD
The Texas Penal Code Chapter 22 Assaultive Offenses defines injury to a child as:
Intentionally, knowingly, recklessly, or with criminal negligence, by act or intentionally, knowingly, or recklessly by omission, causes to a child:
Serious bodily injury;
Serious mental deficiency, impairment, or injury; or
Bodily injury.
"Child" means a person 14 years of age or younger.
If the offense is committed intentionally or knowingly, it is classified as a first-degree felony, which can result in 5-99 years/life in prison, and a $10,000 fine.
If the offense is committed recklessly, it is classified as a second-degree felony, which can result in 2-20 years in prison, and a $10,000 fine.
Contact Blizzard and Zimmerman Attorneys as we have the experience required to give you the best representation possible if you're facing Child Injury and Neglect charges.
When you or a loved one is charged with neglect and/or injury to a child, you should seek legal advice.
The consequences of this charge will cause chaos in your personal and professional life. In many instances, it will be a career stopper.
To discuss a child injury and neglect arrest, charge, or conviction with a criminal defense lawyer that serves Abilene, TX and nearby areas contact Blizzard & Zimmerman Attorneys.
Call today for a consultation with an attorney here at Blizzard and Zimmerman to discuss the facts and circumstances of your case and find out how we can put our skills and experience to work for you.
Results-
Injury to a Child Case Dismissed – Blizzard and Zimmerman Attorneys
Client No-Billed for Spanking Child – Blizzard and Zimmerman Attorneys
The lawyers of Blizzard and Zimmerman work tirelessly to achieve the greatest possible results for each of our clients and their families. This is a selection of one of our many successful results, settlements, and verdicts. Every case and client is unique and depends upon the individual facts and circumstances of each case. Clients may or may not obtain the same or similar results in each case.
Get In Touch