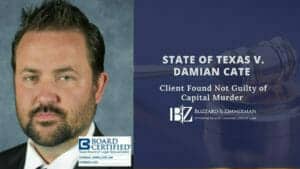 RESULTS: Attorney Jacob Blizzard achieved a rarely seen Not Guilty verdict in a Capital Murder charge against Damian Cate in 42nd District Court of Taylor County, Texas.
Mr. Cate was accused of participating in the stabbing and disposal of the body of his newborn infant which also included a charge of Tampering with Evidence.
The infant's mother, Amber Craker was also accused of the murder and was represented by another law firm.
At trial, Mr. Blizzard convinced the jury that although Mr. Cate had made incriminating statements, the combination of his intellectual disabilities and the over 12 hours of interrogation after Mr. Cate had been up for 2 days caused him to say false things about his involvement.
Mr. Blizzard also presented evidence that the mother had acted alone, keeping her pregnancy a secret from Damian Cate, and presenting physical evidence that proved Mr. Cate's statements against himself could not have been true.
– April 2018
News Release provided to the Media – January 25, 2016
I am the attorney representing Damian Cate. On behalf of Mr. Cate, I am requesting that all news media outlets refrain from attempting to interview Mr. Cate at the Taylor County Jail. I am happy to address questions that media outlets may have regarding Mr. Cate's case as more information becomes available to extent that such disclosure is appropriate.
Mr. Cate's situation requires that he not speak publicly about his case as such information may be misconstrued by the public or the state in the prosecution of Mr. Cate. In addition, Mr. Cate is a young man with disabilities from mental retardation with memory and mental processing difficulties and may be influenced to say things that are not accurate. All of our community seeks to find the truth. The information being distributed in the media does not present a full picture of the events. I would caution the public not to make premature conclusions about what did or did not transpire based on the limited investigative documents and reports obtained by the media.
In the United States, all persons accused of a crime are presumed to be innocent. The presumption of innocence is a crucial part of who we are as Americans, because as Americans we greatly value liberty and freedom. All persons are entitled to a trial by a jury of his peers where the government would be required to prove that he did commit a crime. The rights of all Taylor County citizens are hurt when the fellow citizens make prejudgments based on limited account of events. I ask that the citizens of Taylor County afford Mr. Cate the same presumption of innocence that they would want if they or a loved one was accused of a crime.
-January 2016
Read the news coverage here:
KTXS TV
KTAB TV KRBC TV BigCountryHomepage.com
Abilene Reporter-News
Associated Press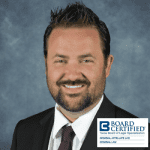 Jacob Blizzard is board certified in both criminal law and criminal appellate law.
He regularly practices in the areas of state and federal criminal defense, criminal appeals, post conviction writs of habeas corpus.
In Texas, there are more than 100,000 attorneys licensed to practice, but only 7,450 are board certified.
In the entire State of Texas, as of the 2019 certification year, there were only 87 attorneys board certified in both criminal law and criminal appellate law, making Mr. Blizzard one of 0.087% of attorneys in Texas to hold both of those certifications.
Jacob is noted by the Seventh Administrative Judicial Region of Texas as being one of two attorneys in the region who is qualified for appointment as Lead Appellate Counsel in capital cases in which the death penalty is sought.
Attorney Jacob Blizzard works tirelessly to achieve the greatest possible results for each of our clients and their families. This is one of his successful results, settlements, and verdicts. Every case and client is unique and depends upon the individual facts and circumstances of each case. Clients may or may not obtain the same or similar results in each case.