RESULTS: We recently represented a client who had pled guilty as part of a plea deal in Abilene, Texas to Possession of Marijuana in a Drug-Free Zone.
It's a 3rd Degree Felony.
Little did he know at the time he pled, due to bad parole advice and ineffective assistance of counsel, he was actually facing a 5-year prison term.
Without the chance for parole.
Thanks to efforts by his wife's hiring criminal defense attorney Jacob Blizzard, he's now a free man.
Find out more by viewing his story on our YouTube channel: https://youtu.be/b8MOSS97v_0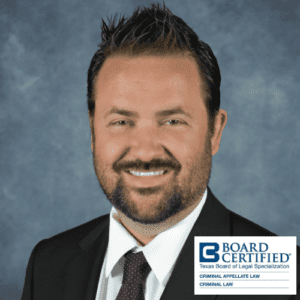 Jacob Blizzard is board certified in both criminal law and criminal appellate law.
He regularly practices in the areas of state and federal criminal defense, criminal appeals, post conviction writs of habeas corpus. In Texas, there are more than 100,000 attorneys licensed to practice, but only 7,450 are board certified.
In the entire State of Texas, as of the 2019 certification year, there were only 87 attorneys board certified in both criminal law and criminal appellate law, making Mr. Blizzard one of 0.087% of attorneys in Texas to hold both of those certifications.
Attorney Sarah Durham's practice focuses on appellate advocacy.
She is passionate about the research and writing intrinsic to appellate and post-conviction writ work. She frequently uses her skills, including attention to detail and presenting the complex as comprehensible, when advocating for her clients.
On a given week, she may write a brief to one of the fourteen intermediate courts of appeals throughout Texas or submit a petition for discretionary review to the Texas Court of Criminal Appeals.
Sarah also focuses on and can often be found working on post-conviction writs of habeas corpus, including 11.07; new evidence; and other extraordinary writs for post-conviction relief.
Criminal Defense and Appeal Attorneys Jacob Blizzard and  Sarah Durham work tirelessly to achieve the greatest possible results for each of our clients and their families. This is a selection of one of our many successful results, settlements, and verdicts. Every case and client is unique and depends upon the individual facts and circumstances of each case. Clients may or may not obtain the same or similar results in each case.