About Jacob Blizzard, in his own words.
Jacob Bizzard is the only practicing attorney board certified in both criminal law and criminal appellate law in Taylor County, Texas.
Here in Texas, there are more than 100,000 attorneys licensed to practice.
Only 7,450 are board certified.
Of the 100,000 only 87 attorneys are board certified in both Criminal Law and Criminal Appellate law by the Texas Board of Legal Specialization.
Jacob is a member of this unique group, he is one of those 87.
In his practice, he has represented clients in criminal cases at all levels. Clients have included those arrested on the lowest Class C traffic tickets to first-degree felonies involving serious allegations like drug possession with intent to deliver, aggravated assault with a deadly weapon, sexual assault, murder, and capital murder.
From Jacob:
"Although I work now in Abilene, Texas, I was born and raised in a little town called Crosby, Texas.
It's a little town east of Houston and I grew up in a working-class family with my dad owning his own home remodeling business and my mom homeschooled me through my elementary middle school grades.
From a young age, I loved the idea of justice and had a mind for analysis. I even drew up a contract with my parents in high school.
I was raised in a Christian home and I left home thinking I'd become a minister but still had the idea of becoming a lawyer in the back of my mind.
As I progressed through college I realized I could do both and I realized that my ministry was just outside of the church. It would be taking my desire to help people and I would do that by representing people in their most vulnerable situations.
I got into criminal defense and criminal appellate work specifically because that's where people need the most help. They've been accused or convicted of a serious crime and the whole system is geared against the person.
Only I stand in the gap to explain this is a person, this is a situation worthy of compassion or it's a person worth fighting for.
However, that may be through negotiation, trials, or post-conviction relief work.
I enjoy being in that position of defending a person advocating for that person's rights to achieve the best outcome that I can in their case.
I want to put a face on a case a person behind the case to say this is a real thing.
It's not just a case file.
To create a situation that shows the humanity of my clients, and then also to be a vigorous advocate for my client.
To be an attorney that's not afraid to take a case to trial.
I spent so much of my time in this role as an advocate in criminal defense and appeals that I acquired the experience education and skills to become board certified by the Texas Board of Legal Specialization in both criminal law and criminal appellate law.
This means I've handled a large number of criminal trials and appeals. I've been recommended for certification by prosecutors judges and other defense attorneys and I passed a one-day-long written certification test in each area to receive those certifications.
As of the 2019 certification year, only 87 other attorneys in the state of Texas held those certifications these are the only certifications that allow an attorney to hold himself out as a specialist in that area of law. I focused on these areas of specialization because those are the areas that get me excited to do the work here at Blizzard and Zimmerman.
I founded what is now Blizzard and Zimmerman in 2011. I've worked diligently to build this law firm into a place where people can come and rely on their attorneys to provide excellent advice and strong advocacy and you'll find that everyone at this firm's story is like mine.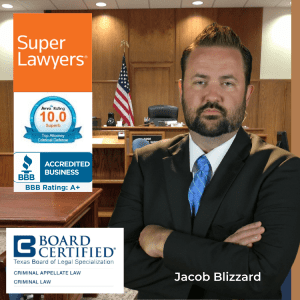 We do this work because we care about people.
We believe in fighting for our clients.
We believe in compassion.
We believe in second chances.
And we believe in justice.
That's the team of Blizzard and Zimmerman.
This is a place where you can come and you'll be listened to.
We'll take the time to explain what your options are in a caring manner to help you understand what's going on.
And then when it comes to getting the best outcome in your case, we spend the time necessary to really dig into the facts and the law of your case to investigate, research, and analyze the situation and give you the best advice that we can.
We have attorneys and staff with diversified skills that complement each other, and we work as a team.
We have the ability to handle cases that have implications in several areas of law.
It's an interesting dynamic when we get a client that may have a family law issue, like a protective order or divorce, and they're also accused by their potential ex-spouse of injury to a child or assault family violence.
We can take those cases in and handle them because we have all sides of the team here: criminal, family, civil litigation.
The team here can handle those because of the diversified experiences. It creates an all-in-all very strong team for representation in our client's cases. So it gets me really excited to wake up each day and come work here with my team at Blizzard and Zimmerman and provide high-quality work for our clients."
Jacob Blizzard