Blizzard and Zimmerman Attorneys were honored to be among the 3 finalists for the first ever Abilene Chamber of Commerce Big Country Best Workplaces Award for small sized businesses.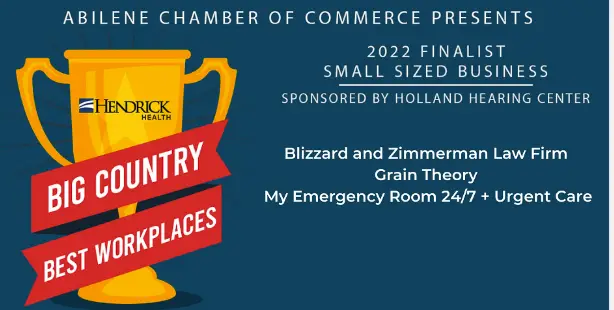 The award went to Grain Theory, so congratulations! Also congrats to our other category finalists My Emergency Room 24/7 + Urgent Care.
According to the Chamber, each finalist for the inaugural Best Workplaces small business award has displayed quality workplaces and happy employees. Holland Hearing Center was our category sponsor with Hendrick Health sponsoring the awards for the overall awards.
In outlining why Blizzard and Zimmerman Attorneys were chosen as a finalist:
Blizzard & Zimmerman creates a supportive, flexible, and developmental atmosphere.
Blizzard & Zimmerman's work life balance
The employees manage a suitable work-life balance and have consistent support in finding growth opportunities for each employee.
B&Z spends time finding opportunities and implementing new procedures which constantly allows their employees to grow professionally and personally.
Blizzard & Zimmerman has a familiar atmosphere.
Described "harmoniously in balance" the employees are one big happy family!
This includes the employees' family too! It is not unusual for kids to grab an afternoon snack or wait in the lounge while their parents finish up work.
Communal workplace
The employees of Blizzard & Zimmerman Law work together, bringing their diversified skills and passion to each client's case. The staff goes above and beyond in finding the best outcomes for all their clients; striving to make a difference for their customers and the world.
More details are here.