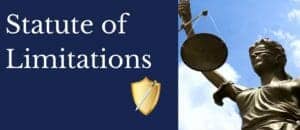 With a large portion of our practice dealing with criminal law, we get a number of inquiries from people about the statute of limitations in Texas law. This will vary from any Federal statute of limitations on Federal crimes.
Many times, folks think that their county district attorney has run out of time to bring charges in a specific case.
That time varies depending on the alleged offense.
There are a number of criminal offenses where there is no statute of limitations, there is no time limit on charges being filed. In some cases, the state of limitations may be tolled, or suspended, under certain circumstances.
All of the particulars are outlined in the Texas Code of Criminal Procedure, Article 12 "Limitations".
If the state fails to bring a criminal case against a suspect within a limited time period it loses the right to prosecute the offense.
Let's take a look at the offenses, these are generally:
Criminal Offenses With No Statute of Limitations – Article 12.01(1)
Murder
Manslaughter
Sexual Assault of a Child
Aggravated Sexual Assault of a Child
Sexual Assaults where DNA was collected
Serial Sexual Assault
Continuous Sexual Assault
Indecency with a Child
Leaving the scene of an accident resulting in death
Continuous Trafficking of Persons
Compelling Prostitution of Child under 18 years of age
Criminal Offenses With 10-Year Statute of Limitations – Article 12.01(2)
Sexual Assault
Compelling Prostitution
Trafficking of Persons
Arson
Injury to Elderly or Disabled (First Degree)
Theft by a Public Servant of Government Property
Theft by Trustee
Criminal Offenses With 7-Year Statute of Limitations – Article 12.01(3)
Money Laundering
Healthcare (Medicaid) Fraud
Bigamy
Credit Card or Debit Card Abuse
False Statement to Obtain Credit
Misapplication of Fiduciary Property
Securing Fiduciary Property by Deception
Felony Violation of Tax Code Chapter 162 (Motor Fuel Taxes)
Criminal Offenses With 5-Year Statute of Limitations – Article 12.01(4)
Robbery
Theft
Kidnapping
Burglary
Insurance Fraud
Injury to Elderly or Disabled (other than First Degree offense)
Abandoning or Endangering a Child
Criminal Offenses With 5-Year Statute of Limitations – Article 12.01(5)
Sexual Performance by a Child (If the victim was under age 17 at the time of the offense, 20 years from the victim's 18th birthday)
Aggravated Kidnapping with Intent to Commit a Sexual Offense (If the victim was under age 17 at the time of the offense, 20 years from the victim's 18th birthday)
Insurance Fraud
Criminal Offenses With 5-Year Statute of Limitations – Article 12.01(6)
Injury to a Child (Ten years from the 18th birthday of the victim)
Criminal Offenses With 3-Year Statute of Limitations – Article 12.01(7)
Other Felonies
Criminal Offenses With 2-Year Statute of Limitations – Article 12.01(7)
Misdemeanors
DWI Misdemeanor Criminal Offenses 2-Year Statute of Limitations
Driving While Intoxicated
Driving While Intoxicated – Misdemeanor Repetition
Dring While Intoxicated with a Blood Alcohol Content (BAC) of greater than or equal to .15
DWI Criminal Offenses 3-Year Statute of Limitations
Intoxication Assault
Intoxication Manslaughter
Driving While Intoxicated with a Child Passenger
Driving While Intoxicated – Felony Repetition