Hello There. Today I would like to write about the 11.07 writ process as it pertains to immigration consequences and how those things might lead to relief for you.
If you were not a citizen in the United States or you were here on permanent residency status, that fact may have been affected by your being found guilty and most often pleading guilty.
Oftentimes what happens in this immigration consequences scenario is a lawyer will advise their client (who is the defendant) "Hey, this is a good deal. I think you should take this, it's probation, it's minimal jail time or something like that." The defendant might say, "Okay, I'll take that plea bargain." They plead guilty, and then suddenly they've got an immigration hold, they go through immigration, they wind up being deported, denied citizenship, their residency status is revoked, or some adverse immigration consequence occurs.
That can qualify as an involuntary plea and it also raises the idea that its ineffective assistance of counsel. These days, trial courts are telling pretty much anybody who claims to not be a citizen in the United States that they will be deported as a consequence of entering a guilty plea.
However, that doesn't mean they actually will. The trial courts just say that to get around the issue of involuntary plea so it doesn't come up, so you still have the issue of your lawyer rendering ineffective assistance of counsel if your lawyer does not advise you on immigration consequences.
An important thing to consider is the Padilla v. Kentucky case (which is a United States Supreme Court case) which set the precedent for the fact that if the immigration consequences are clear, such as if you plead guilty to an aggravated felony and you will be deported, then that's a situation where the attorney has to advise the client that they will be deported or will have adverse immigration consequences.
If the law is complex and it's unclear on the type of immigration consequences that a person may have under the law, then it may be enough for the attorney to say you could have some adverse immigration consequences because of this, but it's not enough to say the lawyer just didn't know because the lawyer doesn't practice immigration law.
The lawyer has an obligation to know what the law is when the law on the issue is clear. If your lawyer didn't advise you correctly, and you subsequently had some bad immigration consequences because you pled guilty on their advice, then you could undo that plea because of the bad immigration consequences that came to you. It's another important area of ineffective assistance of counsel to think about as you're going forward-thinking about how best to remedy your situation.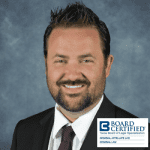 Jacob Blizzard is board certified in both criminal law and criminal appellate law.
He regularly practices in the areas of state and federal criminal defense, criminal appeals, post conviction writs of habeas corpus.
In Texas, there are more than 100,000 attorneys licensed to practice, but only 7,450 are board certified.
In the entire State of Texas, as of the 2019 certification year, there were only 87 attorneys board certified in both criminal law and criminal appellate law, making Mr. Blizzard one of 0.087% of attorneys in Texas to hold both of those certifications.