Can you still clear your name after being released from prison?
Yes, you can do this by pursuing the 11.07 writ process.
You can get your conviction overturned or your sentence overturned even if you have already served your entire sentence.
The Court of Criminal Appeals has set out in Ex Parte Harrington that you can pursue an 11.07 writ of Habeas Corpus as long as you can demonstrate that you are still suffering from some adverse consequence due to the conviction on your record.
Most times, people don't pursue this because they've been released from confinement and they're trying to move on with their lives.
One of the questions we get asked frequently is, "what if I get my case overturned, is something worse going to happen to me?"
No, you're going to be capped at whatever it was that you were sentenced to before unless you decide to take it all the way through a jury trial and elect a jury sentencing, and then the jury could sentence you to more.
However, you certainly can pursue it as well as you could get your conviction overturned.
If the case ends up being dismissed, then you could pursue expunction of your criminal record and get it completely taken off of your record.
If the thing on your record makes it hard for you to get a job or has imposed some limitation on you like the right to keep or possess firearms, or/and the right to vote in certain situations, the Writ of Habeas Corpus process can still be used for you to help you get out of that situation.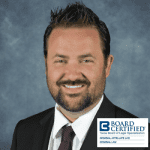 Jacob Blizzard is board certified in both criminal law and criminal appellate law.
He regularly practices in the areas of state and federal criminal defense, criminal appeals, post conviction writs of habeas corpus.
In Texas, there are more than 100,000 attorneys licensed to practice, but only 7,450 are board certified.
In the entire State of Texas, as of the 2019 certification year, there were only 87 attorneys board certified in both criminal law and criminal appellate law, making Mr. Blizzard one of 0.087% of attorneys in Texas to hold both of those certifications.