So you've gone through appeal and filed a state 11.07 writ of habeas corpus here in Texas. Unfortunately, you got denied.
Now you're looking for your next avenue and what you can do from there. Your next step is to pursue a 2254 petition for a writ of habeas corpus in the federal court.
What is The 2254 petition and its Processes?
Also called a petition to vacate sentence, an application to vacate sentence, or a motion to vacate sentence – these are essentially the same. You're seeking relief from your conviction, and what you use in state custody is 2254 which means you stood trial in a state of Texas court and not in a federal court. You have to go through the state writ of habeas corpus first.
Another important thing about filing a 2254 petition is that you've got to file that within one year of your conviction becoming final. So that marks the end of your appeals, and then there'll be some space between the end of your appeals and filing your 11.07 petition or application.
So, that clock begins to run whenever your direct appeal is finalized.
And then it stops when you file that 11.07 writ of habeas corpus petition.
When your 11.07 petition is denied, it resumes, so you have one year to fit it within that time frame.
So that little time before the 11.07 does not count against you. Once the court denies your 11.07 application, you have one year to file.  If you do not file within one year you will be time-barred and the federal court will not entertain your writ at all.  The 2254 petition is unique because you can't assert new grounds of ineffective assistance of counsel.
In this process, the federal course is reviewing the actions of the 11.07 courts. The 2254 petition states that the state court has departed from standards of jurisprudence and that they don't follow the clearly established United States Supreme Court precedent that should be applied to your case.
While it's a high standard, it can be met with proper work research and approach with the federal court. Now, if you get ultimately denied in 2254, you can try to appeal that to the Fifth Circuit.
However, the way that the court sees this is that the district court should be your one real shot in federal court. To appeal to the Fifth Circuit, you have to obtain a certificate of appealability.
Also, you have to get three judges from the Fifth Circuit of Appeal so the court can approve your appeal and grant a review of your petition.
Going forward, if the fifth Circuit reviewed your petition and you were unsatisfied with their resolution of your case, then ultimately, you would petition for a writ of certiorari review in the United States Supreme Court.
But those are exceedingly uncommon.
The petitions to the United States Supreme Court and the Fifth Circuit are rare as well.
Most times, it is at the district court level that you get a real shot at the federal court, deciding whether or not the state court applied the law correctly in your case.
So that's how federal habeas Writ works.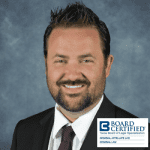 Jacob Blizzard is board certified in both criminal law and criminal appellate law.
He regularly practices in the areas of state and federal criminal defense, criminal appeals, post conviction writs of habeas corpus.
In Texas, there are more than 100,000 attorneys licensed to practice, but only 7,450 are board certified.
In the entire State of Texas, as of the 2019 certification year, there were only 87 attorneys board certified in both criminal law and criminal appellate law, making Mr. Blizzard one of 0.087% of attorneys in Texas to hold both of those certifications.