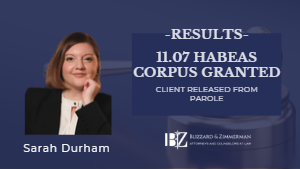 RESULTS: 11.07 Writ Successful
On April 19, 2023, the Court of Criminal Appeals granted our client's 11.07 writ of habeas corpus application on the basis of actual innocence and involuntary plea. In 2017, our client was convicted of Failure to Register as a Sex Offender, a third-degree felony, and sentenced to 15 years in Texas Department of Criminal Justice (TDCJ).
The maximum penalty for a third-degree felony is 10 years, but prior convictions were used to enhance our client's sentence to 15 years. He served almost 5 years in prison and was released on parole in 2021. He's been on parole since.
The above seems fairly straightforward—no glaring issues.
However, when hired, we requested all case-related records from the TDCJ and the Texas Department of Public Safety (DPS).
Once we reviewed those, it became clear that his duty to register expired in 2013, but DPS and TDCJ records inaccurately reflected otherwise.
The DPS records were corrected in 2022 to reflect an End Registration Date of 2013. That was the new evidence we needed to prove to the courts that our client did not have a duty to register in 2016 when he was arrested for Failure to Register—put simply, he was arrested for a crime that it was impossible for him to commit.
The State agreed.
The trial court agreed.
And the Court of Criminal Appeals, which has the final say in 11.07 applications, agreed and granted relief.
Our client will soon be released from parole and is applying for compensation under the Tim Cole Act, which provides monetary compensation to those wrongfully convicted in the State of Texas.

Attorney Sarah Durham's practice focuses on appellate advocacy. She is passionate about the research and writing intrinsic to appellate and post-conviction writ work.
She frequently uses her skills, including attention to detail and presenting the complex as comprehensible, when advocating for her clients.
On a given week, she may write a brief to one of the fourteen intermediate courts of appeals throughout Texas or submit a petition for discretionary review to the Texas Court of Criminal Appeals.
Sarah also focuses on and can often be found working on post-conviction writs of habeas corpus, including 11.07; new evidence; and other extraordinary writs for post-conviction relief.
Attorney Sarah Durham works tirelessly to achieve the greatest possible results for each of our clients and their families. This is one of her successful results, settlements, and verdicts. Every case and client is unique and depends upon the individual facts and circumstances of each case. Clients may or may not obtain the same or similar results in each case.