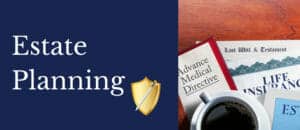 What is Estate Planning?
When some people hear the term "estate planning," they think of it as something only rich people do. But this is far from the truth.
Almost everyone owns an estate, and almost everyone can benefit from estate planning.
An estate includes everything owned by a person. For instance, your house, your car, your bank account, and even your furniture are all parts of your estate.
Regardless of the size of your estate, you need to decide what to do with it after you pass away.
You can't take it with you, and your loved ones can't assume who gets what. If you have wishes for your estate, you need to detail those wishes in a legal document. That document could be in the form of a will or a living revocable trust.
Before recommending an Estate Plan, our attorneys sit down with you and take the time to talk and understand your hopes and concerns.
This personalized attention enables Blizzard & Zimmerman Attorneys to craft comprehensive estate plans based on your wishes and family situation. Contact our office today to schedule an appointment to discuss setting up your estate plan, will, health care directives, and power of attorney.
What Does Estate Planning Include?
Estate planning is the process of creating instructions for your assets. But, it isn't only about money. Your plan can include details regarding:
Who raises your children and handles their money
Who will make decisions on your behalf if you become mentally or physically unable to do so
The way in which your children will receive the money allocated to them
Who receives specific assets and how much they receive
Ways to protect your estate from creditors
Business transfers after your death
Following procedures that minimize taxes on your estate
Ways to avoid taxes on your estate, which can be done through a trust
Two of the most common types of estate planning instruments are wills and trusts. Trusts come with the advantage of avoiding taxes, preventing certain aspects of probate, and limiting the chance of court challenges. However, they tend to require in-depth knowledge of estate planning.
Advance Directives Prepare For the Unexpected
An unexpected situation such as a car accident or another life-threatening situation could happen at any time. Without proper planning, your family could be left to make extremely difficult decisions on your behalf if you become unable to communicate your thoughts. The Advance Directive is a legal document that allows you to state your choices for your medical treatment if you become unable to communicate your thoughts. We will assist you with setting these Advance Directives including:
Physician Directive
Statutory Power of Attorney
General Power of Attorney
Medical Power of Attorney
By planning ahead, you are helping your family by not putting them in a position later that can become very emotional and painful for them. Call Blizzard and Zimmerman today to schedule a consultation to start your Estate Planning today.