If you're facing federal criminal charges and live anywhere in the state of Texas you need a federal criminal defense attorney as these charges can cause severe damage to your career and reputation.
All Federal Criminal Defense: Pre-Indictment, Trial, Appeals
You need federal criminal defense lawyers capable of researching your case and leveraging their findings into a win when you're up against government prosecution.
When you have been charged with a federal crime, you should choose a firm that uses a team of attorneys, headed by a lawyer who is dual Texas Board of Legal Specialization certified in criminal trial law and criminal appellate law.
Federal criminal cases require unique attention to detail and knowledge of the federal criminal system, which moves very quickly compared to state systems.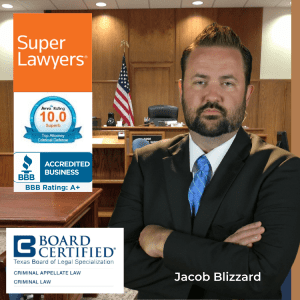 Attorney Jacob Blizzard is one of a few attorneys who has won federal criminal cases out of the Abilene, San Angelo, and Lubbock divisions notoriously "law and order" oriented divisions of the Northern District of Texas.
Jacob is one of 87 attorneys out of 100,000 attorneys in the state of Texas who is board certified in both Criminal Law and Criminal Appellate Law.
When you need representation for a federal drug crime, white-collar crime, or need help with an appeal, choose lawyers that specialize in those areas.
Federal charges should not be taken lightly. If you have been charged with a federal crime, seek legal counsel from Blizzard & Zimmerman Attorneys.
Our team has the experience required to give you the best representation possible.
Jacob Blizzard has also argued his cases in oral argument before the Courts of Appeals in both Texas state and US federal courts.
Attorney Matt Zimmerman has qualified for placement on the Criminal Justice Act Panel of attorneys. He receives federal criminal cases by appointment from the Federal District Court of the Northern District of Texas.
Federal prosecutions are increasing.
The Bureau of Alcohol Tobacco and Firearms (ATF) has over 2,500 agents around the country.
The ATF alone brought over 7,000 cases to prosecution in 2019 alone.
The Uniform Crime Report in 2021 indicated homicides increased 30 percent between 2020 and 2019, the highest single increase on record.
Put our team of federal criminal defense attorneys to work for you, contact us today. We represent clients across the state of Texas.
Find out how criminal defense attorneys Jacob Blizzard, Matt Zimmerman, and Dax Pueschel can work to help you put on a strong defense.
They can defend you from a conviction entirely or present the judge or jury with your side of the story so that you will have a good chance to serve as lenient a sentence as possible. If things don't go your way, we can assist you with the post-conviction writ process.
Call us today to schedule a one-on-one confidential consultation, either in person or online with one of our federal criminal defense attorneys. Put our defense team to work for you!
Related Links-
Results – US Versus Donaldson – Lubbock Federal Court- Not Guilty of Felon in Possession of a Firearm
ATF – Lubbock Drug Traffickers Sentenced to a Combined 206 Years in Federal Prison
Pew Study – Sentences Issued to Offenders in Federal Courts
Drug crimes
Drug Distribution
Drug offense: Hallucinogens
Drug offense: Heroin
Drug offense: Other opiates
Drug offense: Cocaine
Drug offense: Synthetic
Drug offense: Equipment
Drug offense: Marijuana
Drug offense: Amphetamine
Drug offense: Barbituates
Sex Crimes
Firearm crimes
Murder
Negligent manslaughter
Assault
Robbery
Sexual Abuse
Kidnapping
Threatening Communication
Other violent offenses
Embezzlement
Fraud
Forgery
Arson and Explosives
Other property offenses
Weapon offenses
Bribery
Perjury, contempt and intimidation
National defense
Escape
Racketeering and extortion
Gambling
Child Support Recovery
Child Support Recovery: Alimony
Sex offenses
-Coercing, enticing or transporting (interstate) of an individual (including minors) with the intent and purpose of engaging in prostitution
-Possession with intent to sell or sales and distribution of obscene materials
Obstruction of Justice
Conspiracy – Aiding and Abetting
Bail Violation
Probation Violation
Post-incarceration Supervision Violation
Failure to Appear
Material Witness
Counterfeiting
Burglary
Larceny
Motor Vehicle Theft