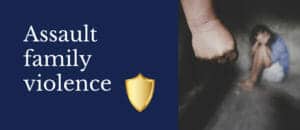 The Texas penal code defines Assault – Family Violence as:
An act by a member of a family or household against another member of the family or household that is intended to result in:

Physical harm
Bodily injury
Assault
Sexual assault or
That is a threat that reasonably places the member in fear of:

Imminent physical harm
Bodily injury
Assault
Sexual assault,
But does not include defensive measures to protect oneself.
Family or household members are:
Current or former spouses
Parents of the same child
Foster child and parent
Current or former co-residents
Current or former dating or romantic partners
Relatives by:

blood
marriage
or adoption.
Contact Blizzard and Zimmerman Attorneys as we have the experience required to give you the best representation possible if you're facing Assault Family Violence charges.
When you or a loved one is charged with assault family violence, you should seek legal advice.
The consequences of this charge will have repercussions in your personal and professional life.
Call today for a consultation with an attorney here at Blizzard and Zimmerman to discuss the facts and circumstances of your case and find out how we can put our skills and experience to work for you.