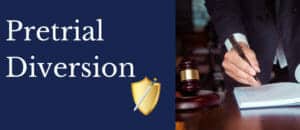 We do get asked by potential clients if pretrial diversion is a possibility for their Texas criminal case.
It's a voluntary program that allows you to avoid a criminal conviction and have the charges dismissed once you meet certain conditions.
It's not the right fit for everyone in their criminal case.
You may qualify IF:
You are a first-time offender,
You don't have a previous pretrial diversion,
The crime is not related to family violence,
The crime you're charged with is a misdemeanor and not a felony,
The only crime of sexual nature that is eligible would be a prostitution charge,
You are not documented as a member of a gang.
There are pluses and minuses to consider before you agree to such an agreement with the court. You need to
Pluses:
You can avoid the criminal charges entirely as they're dropped once you complete the terms of your pretrial diversion.
You avoid going to prison, so you can continue your life with your job, your family, and other activities.
Minuses:
You enter a guilty plea as part of the arrangement.
If you violate the terms of your pretrial diversion, the county prosecuting attorney can and likely will resume pursuing the criminal case against you.
Blizzard and Zimmerman, Attorneys, are experienced in helping clients through the  process, which requires a certain amount of work on your part as well:
The written application and documents that support it are presented to the court. This will include your resume along with references, school transcripts,  and other favorable information such as your personal achievements,
You will submit a couple of essays:

One that will describe the arrest and the circumstances, you must accept that what you did was wrong and not blame someone else or circumstances.
A second essay on why you want to avoid going to prison. This can include career or education goals, or your responsibility for your family.

You will have a sit-down one-on-one interview with a county probation officer, who will ask you lots of questions about your essays and the circumstances.
You will be required to comply with certain terms and conditions IF your application is accepted.
You successfully complete the program and your charges will be dismissed.
All cases are different, and your case is no exception.
Some of the program requirements may include:
Regular reporting to a probation officer.
Completing assigned community service hours,
Attending educational/counseling sessions based upon the offense, (This could include a drug or alcohol rehabilitation treatment program.)
Regular drug testing,
Avoiding additional criminal activity.
Pret-trial diversion is defined by Texas Government Code §76.011e.
It's best for you to talk about pretrial diversion with an experienced Texas criminal defense attorney. Give us a call.
Blizzard and Zimmrman Results: